PRIVATE PARTY - exclusive use of Carolina Skate Land
2 hours exclusive use of the rink
Bring your own food and drink
Up to 75 people
Your choice of skates
Your choice of music
Birthday Star gets a 1 month skate pass


Additiona Guest are $6.00 each
Fountain Drinks/Sweet Tea/Kool-Aid $5.95 pitcher
Popcorn $40.00
Glow Sticks (tube of 50) $15.00
Balloon Inflation $.50 ea.
Balloons $.75 ea.
Invitations $.25 each
Skate Mate $5.00 ea. or $25.00 for 10

2 hours exclusive use of the rink
Admission for Birthday Star + 49 friends
Your choice of skates
Paper Products (plates, table cover, balloons, etc.)
1/2 sheet cake skate themed
10 pizza's (cheese or pepperoni)
50 ice cream cup
50 glow sticks
Birthday Star gets a 1 month skate pass
Party Host/Hostess

Additional Guest are $25.00 each
Includes admissions, choice skate rental, place setting, fountain drink, ice cream cup, pizza, and glow stick.
anytime Carolina Skate Land
is not open to the public.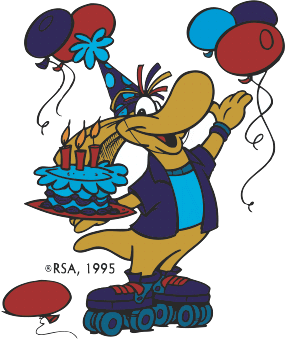 ** SKATE AT YOUR OWN RISK **
Please visit our Rink Rules and Guidelines page
ARRIVAL TIME: Typically 10-15 minutes before the start of the party. However early entry is not guaranteed.
DECORATIONS: Table cover and balloons are ok. NO confetti, glitter, streamers or poppers. Party hats must remain at the party table.
Goodie Bags may be given to your guest as they leave the rink.
GUEST LIST: The guest list is required to be brought in on the day of the party. List the names of those you will pay for, both children and adults.
If you are NOT paying for adults that wish to skate, they must pay
regular admission and skate rental (exception: adult parties).
Any child between the ages of 3 and 17 must be counted
DEPOSIT $100.00 Deposit to be paid at time of booking.
By paying a deposit you agree to all terms and conditions.
Prices do not include sales tax.
No refunds, No exceptions. No Checks.